Science Supervisors at Bethlehem Central High School
Delmar, NY
by Cliff Lamere March 2015
In the 1960, 1961 and 1962 BCHS yearbooks, three science supervisors are shown, two of them before they attained the position (see first two photos below). Leslie Edsall, Warren Kullman and Thomas Atkinson had all been science teachers at the Bethlehem Central High School before becoming the first three science supervisors for the Bethlehem Central School District.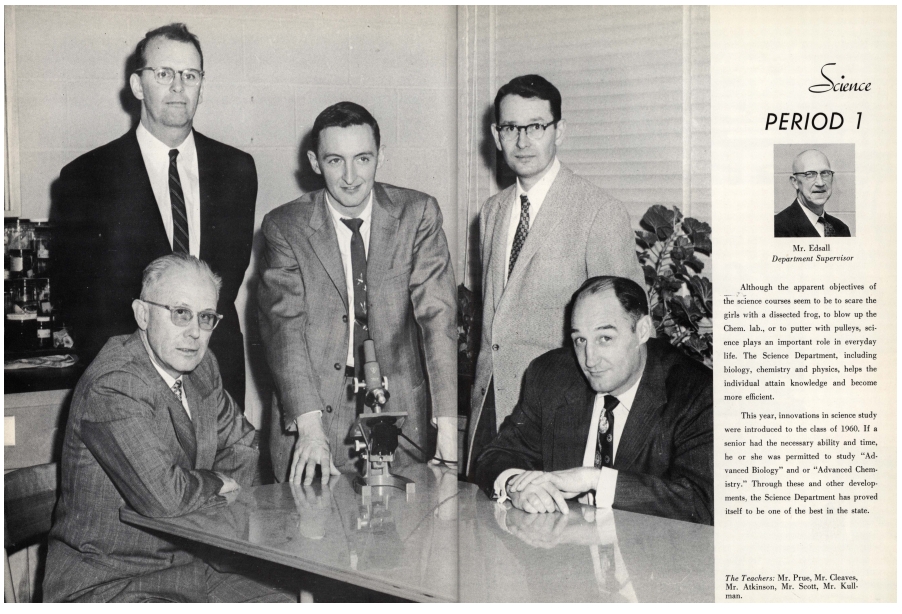 1960 BCHS Yearbook
Seated: Milton Prue, Warren Kullman
Standing: Earl Cleaves, Thomas Atkinson, ___ Scott
Small Photo: Leslie Edsall, science supervisor

"Although the apparent objectives of the science courses seems to be to scare the girls with a dissected frog,
to blow up the Chem. lab., or to putter with the pulleys, science plays an important role in everday life." -- Leslie Edsall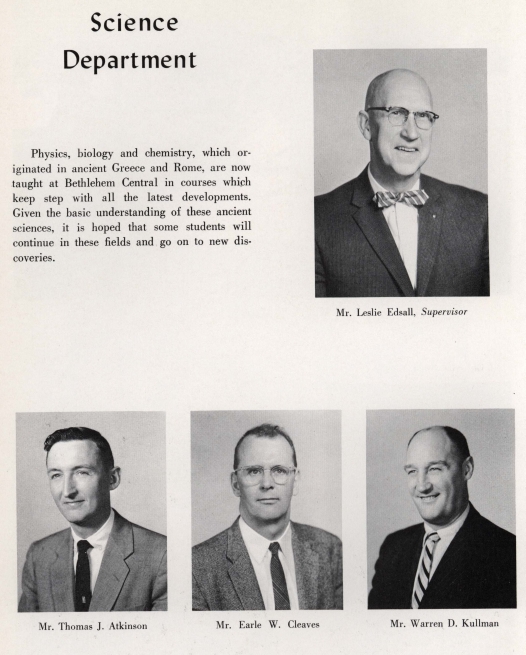 1961
___________________________________
THE SCIENCE SUPERVISORS IN CHRONOLOGICAL ORDER
NAME

YEARS OF SERVICE

AS SCIENCE SUPERVISOR

NUMBER OF YEARS
1

Leslie Edsall

c1949-1964

15 or more
2

Warren D. Kullman

1964-1977

13
3

Thomas J. Atkinson

1977-1989

12
4

Stephen F. Swinton

1989-1991

2
5

Ken Nealy

1991-1992

1
6

Peter Maxson

1992-1993

1
7

Bruce Tulloch

1993-2007

14
8

Michael Klugman

2007-2011

4
9

Jennifer Gonyea

2011-present
LESLIE EDSALL
Leslie Edsall first appeared as a teacher in the 1940 BCHS yearbook, so he presumably began teaching at the high school in September 1939.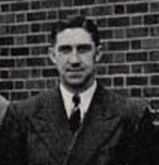 1940
In the yearbooks of 1941 and 1942, he was teaching "Science and Mathematics".
In the yearbooks of 1943 and 1945, he was listed as only teaching Science.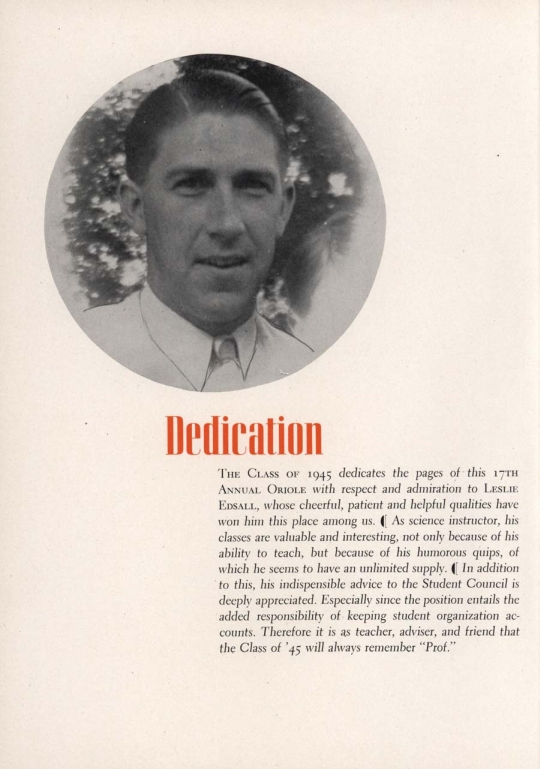 1945
In yearbook 1945, which was dedicated to him, he was mentioned as not present in the faculty group photo. In yearbooks 1946-1948, he is mentioned as not pictured. He was absent without mention from the 1949 yearbook. In 1950, he was was not pictured but was listed as "Mr. Edsall: Chemistry; Head of Science Dept." He was the first science supervisor of the Bethlehem Central School District, and it is very possible that he began that position in July 1949. His photo did not appear in the 1951 or 1952 yearbooks, although he was listed as absent in 1952. To summarize, while working at BCHS his photograph did not appear in the yearbooks for a period of seven consecutive years (1946-1952).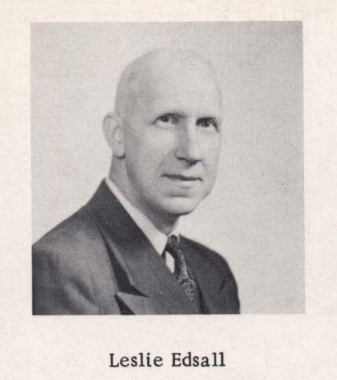 1953
In the 1940-1944 yearbooks, Leslie Edsall had a full head of hair. The 1945 photo does not appear to be a normal yearbook photo, so it could have been taken in an earlier year. Leslie was not in the 1945 group photo, although he was mentioned. In 1953 and thereafter, he was completely bald. For the seven yearbooks of 1946 through 1952, he was not pictured even though he was usually mentioned. Leslie appears to have avoided being photographed during the period of his hair loss.
The science supervisor frequently, but I don't believe always, was required to teach at least one science class in addition to his other duties. I'm not aware of a science supervisor teaching more than one class while holding that position. In the case of Les Edsall, when the district was much smaller than at present he may have taught more than a single class per day.
In 1963, Leslie Edsall was listed as "Science Supervisor, Chemistry". He retired in June 1964 as science supervisor, and was replaced that year by Warren Kullman. Norman Shartzer, who joined the Chemistry staff in January 1967, replaced Leslie Edsall who had come out of retirement to teach the Fall 1966 semester. Norm told me that Les Edsall used to substitute for him at times after that, and that he was very well liked by Norm's students.
Leslie Edsall was born September 1, 1909 in Bath, NY and died December 2, 1988 in Albany, NY. See his two obituaries.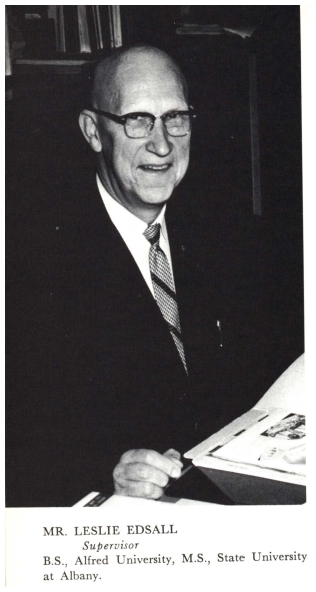 (1964 YB)
Leslie Edsall, Science Supervisor (probably July 1949 - June 1964)
BCHS full-time teacher from Sep 1939 - about June 1949, and Sep 1966 - Jan 1967.
Substitute Chemistry teacher at times after Jan 1967.

_________________________________________________________________________
WARREN D. KULLMAN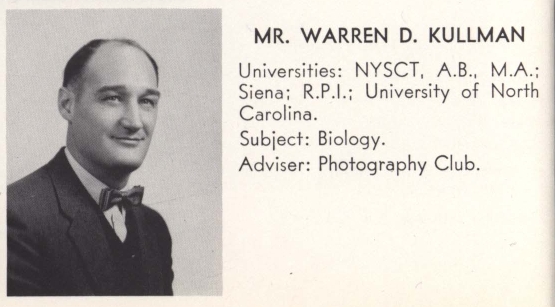 1956
Warren Kullman first appeared in the BCHS yearbook of 1956 as a Biology teacher. It is very likely that he began teaching in September 1955. He taught Biology until June 1964 when he became the second science supervisor of Bethlehem Central School District, replacing Leslie Edsall. He was supervisor until June 1977 and taught one class of Biology as part of his job.
After Warren's retirement, the science department had a picnic/barbecue at John Boyd Thacher State Park to which he was invited. See a webpage about Warren which includes photos of that event as well as his obituary.
Warren Kullman was born June 19, 1922 in Albany, NY and died June 21, 2000 in Newark, Ohio.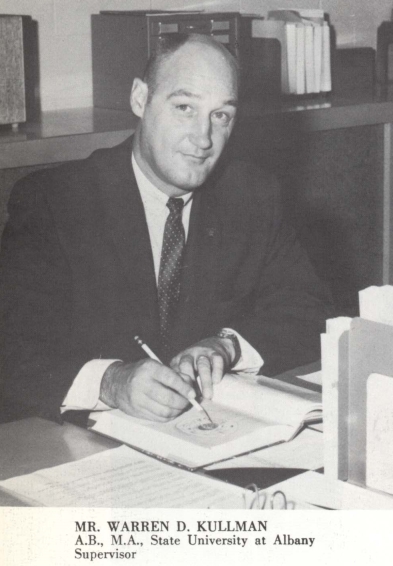 (1965 YB)
Warren D. Kullman, BCHS Biology teacher (1955-1964)
Science Supervisor & teacher of one class of Biology (1964-1977)
_________________________________________________________________________
THOMAS J. ATKINSON
Thomas J. Atkinson was a teacher at Bethlehem Central High School for three years (1959-1962). He may have taught Chemistry. He later returned as science supervisor in 1977 with the title of Dr., then retired from that position in 1989.
Thomas Atkinson was born March 22, 1932 in Green Island, Albany Co., NY, and died in Gilbert, Arizona March 17, 2004. See his obituary.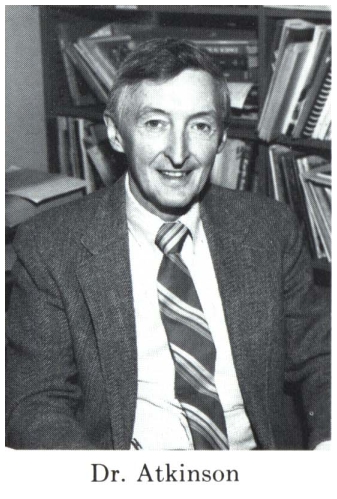 (1989 YB)
Thomas J. Atkinson, BCHS science teacher, probably of Chemistry (1959-1962)
Science Supervisor & teacher of one science class where needed, sometimes
Chemistry and Biology and probably also General Chemistry (1977-1989)
_________________________________________________________________________
STEPHEN F. SWINTON
Stephen F. Swinton held the job of science supervisor for two years, then took the same position at the nearby North Colonie (Shaker) School District. It is believed that he taught a science class, but the subject is unknown. He was born May 24, 1949 in Green Island, Albany Co., NY, and died April 21, 2005 in Albany, NY. See his obituary.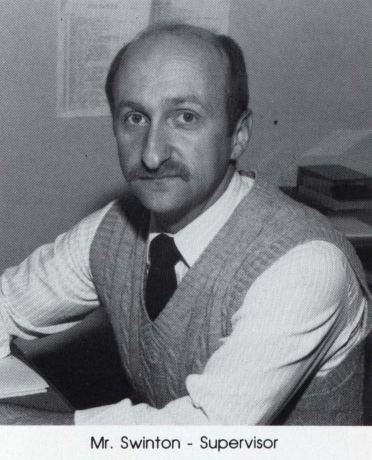 (1990 YB)
Stephen F. Swinton, Science Supervisor (1989-1991)
Perhaps taught a class of Chemistry.
_________________________________________________________________________
Mr. NEALY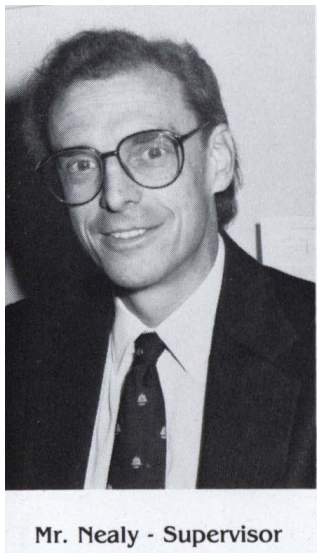 (1992 YB)
Ken Nealy, Science Supervisor (1991-1992)
He may have simultaneously taught one class of Chemistry or General Chemistry.
_________________________________________________________________________
PETER MAXSON
Peter Maxson was Supervisor of Science and Instructional Technology, as well as a teacher of Regents Earth Science for one year (1992-1993). The Spotlight, September 9, 1992 wrote, "He plans to have a 'bi-statal' living arrangement for two years, taking an apartment in Delmar while his family remains in Brockport, until his daughter graduates from high school." Apparently, this arrangement did not work well for him, because he left after one year.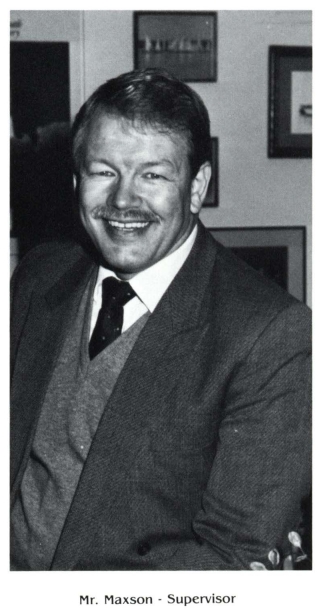 (1993 YB)

Peter Maxson, Science Supervisor (1992-1993)

Also teacher of one class of Regents Earth Science.

_________________________________________________________________________

BRUCE TULLOCH

Certifications and Professional Experience:

New York State Permanent Certification in Earth Science, Biology, Chemistry and General Science, 1973. New York State Permanent Certification as School Administrator and Supervisor, 1978. District Science Supervisor, Bethlehem Central School District, 1993-2007. Associate in Science Education, New York State Education Department, 1987-1993. Director of the Upper School (1985-1987), Science Department Chair (1980-1985), and Science Teacher (1978-1987), all at The Packer Collegiate Institute. Science Teacher, Schalmont Central School District, 1969-1978. Science Teacher, Perth Central School District, 1968-1969. [Source] In 1993,

Dr Tulloch

became district science coordinator for

Bethlehem Central School District

. While in that position, he supported the school's excellent science research program and innovative

Lab School

. [Source]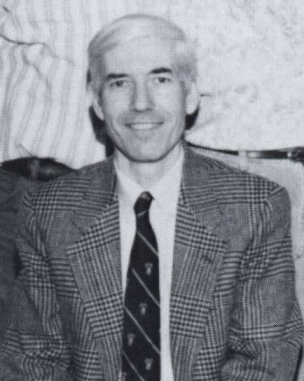 (1994 YB)
Bruce Tulloch, Science Supervisor (July 1993 - June 2007)
As his teaching requirement for 1993-1994, he taught General Chemistry.
From 1994-2007, he taught Wildlife Biology, a one-semester elective.
In years with sufficient student sign ups, he taught it both semesters.
In the other years, he taught Human Anatomy and Physiology which
was also a one semester elective course. [Source: Bruce Tulloch]
_________________________________________________________________________
MICHAEL KLUGMAN
Michael Klugman, Supervisor of Science & Technology (July 2007-June 2011)
Principal of Bethlehem Central Middle School (July 2011-present)
As Science Supervisor, he taught Wildlife Biology, General Chemistry and Science Research.
[Source: Michael Klugman]
_________________________________________________________________________
JENNIFER GONYEA
Jennifer Gonyea, Supervisor of Science and Technology (July 2011-present)
As Science Supervisor, she has taught Science Research
Jennifer Hahn, Bethlehem Central Middle School science teacher (2001-2008)
As a teacher in the Middle School, she taught 7th grade science.
[Source: Bethlehem Central Business Office]
_________________________________________________________________________
Visitors since 17 March 2015