Heinrich Joachim, Cellist (1910 - 2002)
Webpage by Cliff Lamere - November 2013, revised July 205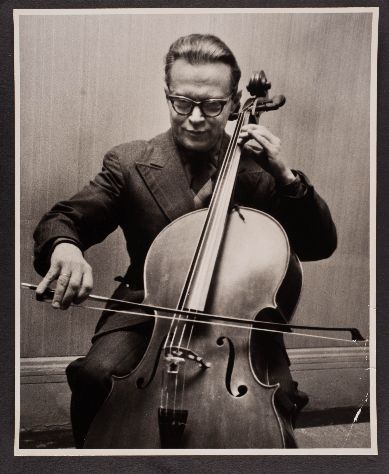 Member photo of the New York Philharmonic
ID 800-084-31-001
Heinrich Joachim was born September 26, 1910 in Berlin, Germany to Georg Joachim and his third wife Bertha Weigel, a Roman Catholic. Himself a German Jew and the son of Louis Joachim, Georg was a physican who was an obstetrician and gynecologist.
Heinrich made his debut in Berlin at the age of 17. In his early 20s, Heinrich and his accompanist Eberhard Rebling toured Scandinavia where he became established as "an outstanding cellist". When Heinrich's visa ran out, he returned to Berlin.
Because of his Jewish blood, Heinrich had to flee Germany when Hitler came into power. "Heinrich had to leave Germany because he was gaining recognition early as a cellist. He also refused to sign a loyalty oath and had to leave Germany to save his life. Heinrich sought refuge first in Sweden and then in Guatemala." (email: Sallie Joachim, 11-22-2013)
Pianist Salvador Ley, a Guatemalan, who was one of Heinrich's fellow students at the conservatory, happened to know that the National Conservatory of Music in Guatemala needed a Professor of Cello and Chamber Music. In 1933, Heinrich left his native land and joined the National Conservatory for the Government of the Republic of Guatemala as an instructor and later became its director. Mr. Ley also was the director of the same organization at one time. In 1962, Heinrich and Salvador both lived in Westchester Co., NY.
Heinrich was married three times.
1) Ilonka Breitenbach. Though five years her junior, Heinrich fell in love with Ilonka during musical evenings at his parents home in Berlin. Heinrich sailed to Guatemala in 1933. Ilonka followed, and they were married. Her children were Andrew George Joachim and Dorothea Breitenbach Joachim, both born in Guatemala. Dorothea's nickname was Chiqui from the Spanish word chiquita, which means little girl. Ilonka's mother was Clara Hille, a Protestant seamstress. Ilonka's father is thought to have been Hungarian (name not known). She was adopted by Otto Breitenbach. Heinrich and Ilonka divorced Guatemala in 1944, about the time of Dorothea's birth. The daughter stayed with Ilonka; Andrew stayed with Heinrich.
2) Renata Garve - child Bruno. She was a German Jew whose family moved to Switzerland. Her father was born Samuel B. Guggenheim, but changed his surname to Garve to avoid immediate recognition as a Jew. He was a doctor who later ran a private nursing home in White Plains, NY where Heinrich settled in 1948. Renata's mother was Manya Barches. Renata was a concert pianist who was sometimes referred to as Renate in her career (Renate is the more likely German spelling). She died in 1962.
3) Ursula Hirsch - child Angela "Angie". Ursula, a German Jew, was a scientist and cello student of Heinrich. Heinrich and Ursula divorced in 1974.
Heinrich Joachim died April 27, 2002 in White Plains Hospital, White Plains, NY (see obituary below).
This is a companion webpage to a biography of Andrew George Joachim, son of Heinrich Joachim and Ilonka Breitenbach. See that webpage for additional information about Heinrich. [Link not established yet.]
----------------------------------------------------
On April 19, 2013, Andy Joachim, son of Heinrich Joachim wrote an email to Ari Goldman, a former cello student of his father. Sent to me by Andy's wife Sallie, here it is in its entirety. It helps us to understand some of the event of Heinrich's life.
Subject: Heinrich in the forties
Hi Ari,
I got thinking about my father, when he came to this country, and when I came to this country. I arrived in September 1948. As a young child (9 yrs.), coming from a small country like Guatemala, I had no idea about orchestras, their organization, or anything else. However, I remember that in 1948 and 1949 Heinrich worked at the City Center, and that my stepmother and I always sang to him instead of talking to him to tease him about playing opera. As I work things out in my mind, this is what I believe to be true:
1946 Heinrich arrives in US, teaches Spanish for 6 months to satisfy his residency requirement to join the union, gets a job as a section cellist with the Cleveland Orchestra under Szell. Auditions for NYC Symphony with Bernstein, is hired as first cellist.
1947 Completes season with Szell, plays first cello for Bernstein during the season of 1947 - 1948. Bernstein's orchestra disbands, Heinrich becomes first cellist of City Center Opera Orchestra.
1948 I arrive in US, Heinrich plays in City Center for 1948 - 1949 season. Heinrich auditions for NY Phil.
1949 - 1950 season to 1958 - 1959 season, Heinrich in NY Phil.
1959 Heinrich becomes first cellist of Baltimore Symphony.
This would fit with all my recollections, along with what documents I have uncovered so far. I hope it is helpful.
Regards,
Andy
During the years 1949-1959, the New York Philharmonic had the following conductors under which Heinrich Joachim played cello.
1949: Leopold Stokowski and Dimitri Mitropoulos were appointed co-principal conductors
1951: Dimitri Mitropoulos appointed Music Director
1957: Dimitri Mitropoulos and Leonard Bernstein were appointed co-principal conductors
1957: During the same season, Leonard Bernstein was appointed Music Director (He retired in 1969.)
1959-1960: Heinrich Joachim played first cello with the Baltimore Symphony Orchestra under the baton of Peter Herman Adler. Heinrich played at least one season, but perhaps more.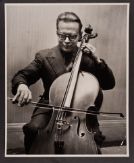 Some chronological events in the life of Heinrich Joachim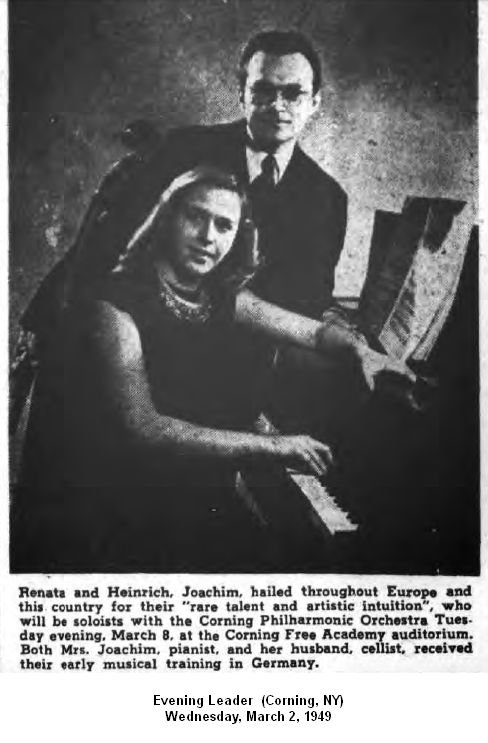 ------------------------------------------
Petition for Naturalization: On November 21, 1949, Heinrich Joachim was assigned a petition at New York City, NY.
------------------------------------------
The next article mentions that Heinrich was first cello for the Indianapolis Symphony for two years. It is rather doubtful that he played for that symphony orchestra at all, unless it was as a soloist or short-term replacement. Also, he and Renata were not natives of Vienna. They were both born in Germany.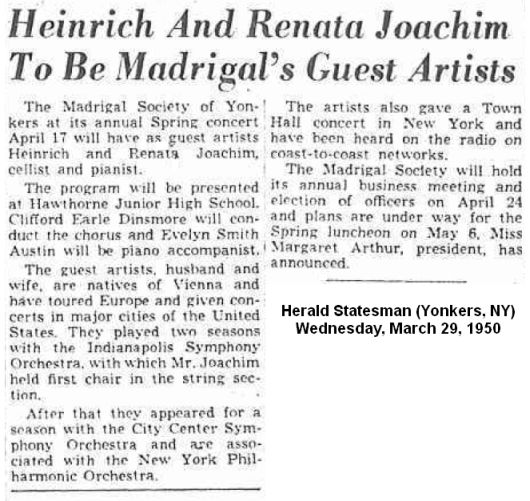 ------------------------------------------
The Daily Argus, Mount Vernon, NY
Saturday, September 23, 1950
[A chamber music concert was announced for Saturday September 30, 1950 at the Chester Hill Methodist Church. Four featured artists were named, including "Heinrich Joachim, cellist, New York Philharmonic Orchestra, and Renata Joachim, pianist and teacher."
------------------------------------------
On September 29, 1951, Heinrich sailed from Cherbourg, France on the SS Queen Mary, arriving at New York City on October 4, 1951. Although he was listed as Single (as opposed to Married), that was an error. Heinrich is known to have concertized in Europe, so this may have been one of those occasions. View the Passenger List (click to enlarge).
------------------------------------------
Heinrich and Renata Joachim performed compositions by five composers at a private residence, sponsored by the Musicians' Club of New York. View the April 6, 1952 concert program (click to enlarge).
------------------------------------------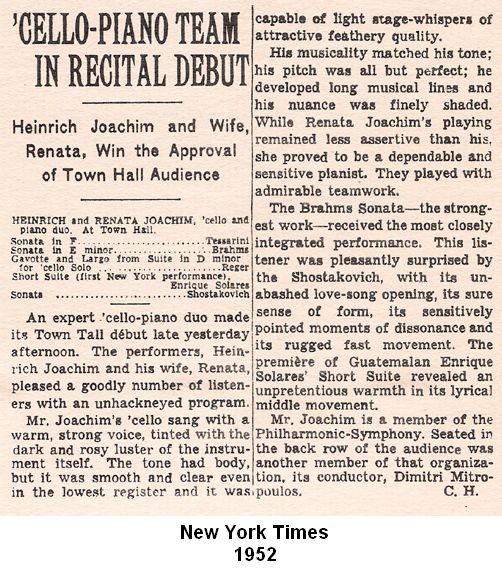 ------------------------------------------

------------------------------------------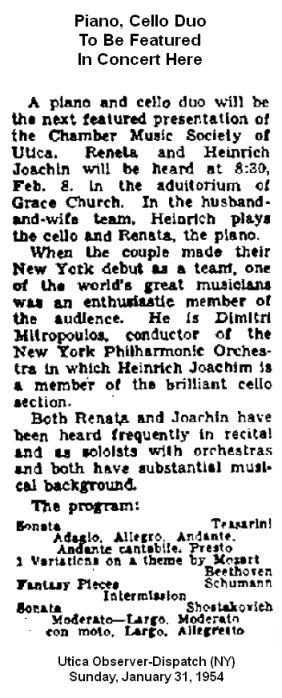 ------------------------------------------
Utica Observer-Dispatch (NY)
Tuesday, February 9, 1954
Pianist, Cellist Give Concert
"Renata and Heinrich Joachim offered an exceptional evening last night in Grace Church auditorium, for members of the Chamber Music Society. The pianist and cellist were splendidly paired, each possessing a high degree of technical ability, dedication of purpose and emotional depth. The event demonstrated their right to be ranked as notables among the nation's new musical combinations. Mrs. Joachim is the pianist, her husband the cellist.
Their program included scores by Tessarini, Beethoven, Schumann and, after intermission, the Shostakovich "Sonata," There was a brief talk by Berrien Rankin Shute, Hamilton College professor, on the composers and their works, to preface the recital.
The program was late in starting because of a fuse which blew in the dressing room. Mrs. Joachim had to dress her blond pageboy bob in darkness.
— Edna Coe"
------------------------------------------
Herald Statesman (Yonkers, NY)
Wednesday, March 7, 1962
"The final concert on Friday evening, April 27 will feature Renata and Heinrich Joachim in a program of cello and piano music by Bocherini, Beethoven and Brahms."
------------------------------------------
Heinrich Joachim is said, in this article, to have founded the Westchester Chamber Music Society. But, a June 4, 1976 article below contradicts this idea.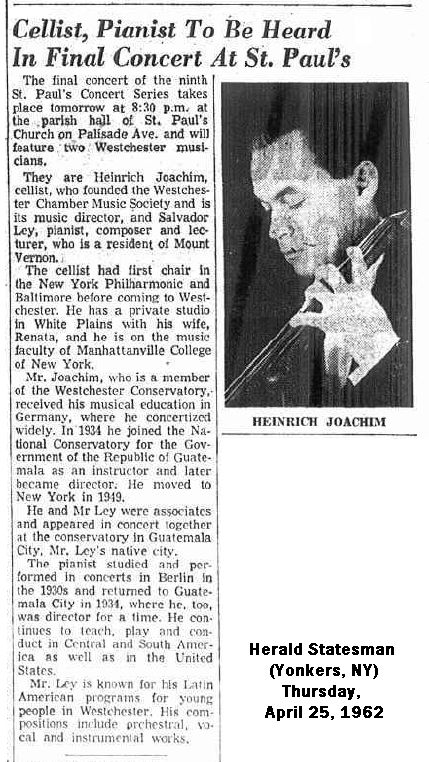 ------------------------------------------
Heinrich Joachim plays a Guarnari cello built in 1668.

------------------------------------------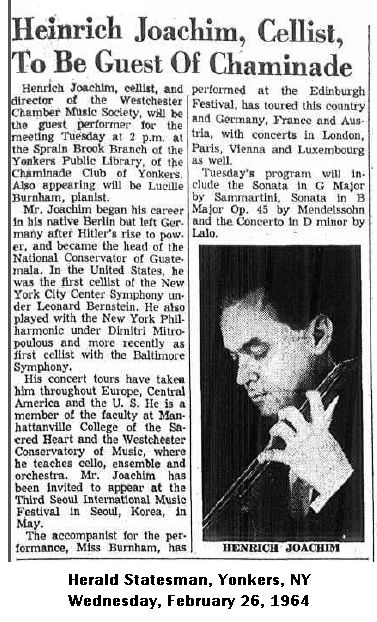 ------------------------------------------
New York Times
November 8, 1964
Raymond Ericson
JOACHIM OFFERS A CELLO NOVELTY
Tcherepnin Suite Is Played First Time in America
The third program of unaccompanied cello music to be given locally within twelve days took place yesterday afternoon in Carnegie Recital Hall. The artist was Heinrich Joachim, and he had assembled four nicely contrasting works to keep the recital sparkling.
[This was a free excerpt from the article.]
------------------------------------------
First recorded Long Playing 33 1/3 rpm record.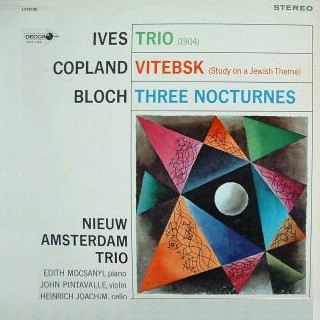 Nieuw Amsterdam Trio - Edith Mocsanyi, piano – John Pintavalle, violin – Heinrich Joachim, cello
Ives - Trio for Piano, Violin & Cello (track B1 )
Copland - Vitebsk: Study on a Jewish Theme (tracks A1 to A3)
Bloch - Three Nocturnes (tracks B2 to B4)
Recorded Oct 26-27, 1965, then released in 1966 on Decca DL 710126, 12" vinyl LP, 33 1/3 rpm
This was the first recording of the Ives composition ever made.
Charles Ives composed it 1904-1911. It was published in 1955.
It contains fragments of American folk songs.
Title: Trio for Violin, Violoncello, and Piano

Listen to the Nieuw Amsterdam Trio play the Ives composition on YouTube.

Listen to the Nieuw Amsterdam Trio play the Copland composition on YouTube.
------------------------------------------
Heinrich Joachim and friend Salvador Ley.
------------------------------------------
Herald Statesman (Yonkers, NY)
Wednesday, October 8, 1969
Chamber Music Group Slates Its Performances For Season
"The Westchester Chamber Music Society (WCMS) enters its 19th season of performances in Westchester on Oct. 19 with Heinrich Joachim, cellist, continuing as music dorector [sic] and performer.
Four evenings of chamber music will be presented this season. The first concert will be held at Manhattanville College in Purchase in the West Room of the Reid building, at 8 p.m. Other concerts are scheduled for Nov. 23, March 8 and May 3, Sundays at 8 p.m. Most of the society's concerts are given in large private homes.
As one of 20 affiliates of the Council for the Arts in Westchester, the series is part of the council's New Friends — New Trends 1969 program, and participates in the council's combined ticket selling campaign.
Playing quartets by Schubert, Beethoven and Smetana in the first program with Mr. Joachim will be: Bernard Robbins and John Huwiler, violins, and Harry Zaratzian, viola.
Born in Berlin, Mr. Joachim served as director of the National Conservatory in Guatemala prior to coming to the U.S. Here he has been a member of the Cleveland Orchestra, New York City Symphony, New York Philharmonic and was first cellist with the Baltimore Symphony.
In recent years he has been busy as a teacher with home and studio in White Plains, and on the faculties of the Westchester Conservatory of Music, the Manhattan School, Manhattanville College; he is lecturer-recitalist at New York University, cello teacher at Mid-Westchester Y.M.-YWHA, and for two summers was artist in residence at Dartmouth College. He is also a member of the Nieuw Amsterdam Trio.
The programs planned by Mr. Joachim for WCMS have included works by Mozart, Bach, Beethoven, Schubert, Schumann, Brahms, Malipiero, Shostakovich, Dohnanyi, Debussy, Franck and modernists, including Hindemith and Bartok.
Members of the society subscribe for the series but individuals may attend also. Persons interested in joining should contact Mrs. Barry Altman, 395 Rosedale Ave., White
Plains.
Marvin M. Wedeen of White Plains, became president of the society this fall succeeding Mrs. Reiter, president since its inception."
------------------------------------------
Second recorded Long Playing 33 1/3 rpm record.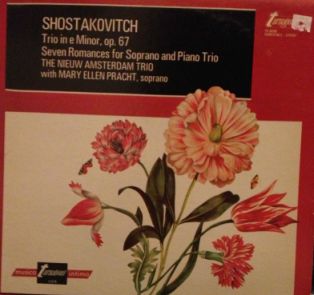 NIEUW AMSTERDAM TRIO & MARY ELLEN PRACHT, soprano
Edith Mocsanyi, pianist; John Pintavalle, violinist; Heinrich Joachim, cellist
Shostakovitch
Trio in e minor, op. 67
Seven Romances for Soprano and Piano Trio, op. 127
Recording: Turnabout records, tv 34280, 12" vinyl LP, 33 1/3 rpm, released 1971
------------------------------------------
New York Times
December 15, 1973
Westchester Weekly (section)
Events Today
Heinrich Joachim, cellist, Carnegie Recital Hall, 2:30
------------------------------------------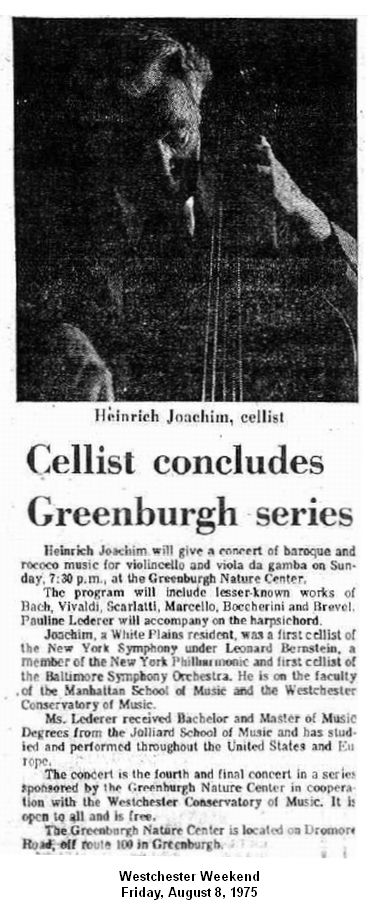 ------------------------------------------
Herald Statesman (Yonkers, NY)
Friday, June 4, 1976
Quartet Concert Celebrates Anniversary
[Speaking about the Westchester Chamber Music Society:]
"THE ORIGINAL group was conceived in 1950 by two Westchester women who wanted to share the musical tradition of their European backgrounds with American friends. Hilda Reiter, and her husband, Gerhard, both trained instrumentalists, had often joined other professional musicians and competent amateurs for an evening of music making. Among their avid listeners were Leon and Use Pines of Scarsdale and Heinrich Joachim, a cellist with the New York Philharmonic. Joachim, whose wife Renate, is a concert pianist, was named music director."
This statement contradicts one above which says that Heinrich was the founder of the group.
------------------------------------------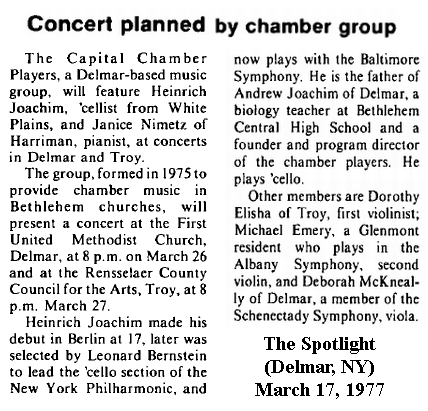 Heinrich's son Andrew Joachim became a high school science teacher and amateur cellist. In 1975, Andy formed the Capital Chamber Players, a Delmar-based music group for which Heinrich performed at least three times during the four years or so of its existence. Heinrich autographed my program for one of those concerts. Click on the Program link below to view the March 26, 1977 autograph.
March 26&27, 1977 - First United Methodist Church (Delmar) & Rensselaer County Council for the Arts Program Flyer (click to enlarge)
Heinrich Joachim, Janice Nimetz
Autograph: "Cliff, watch out for the cliff called "Music"! and "musician". Best wishes, Heinrich"
Autograph: "With very best wishes, Janice Nimetz"
Heinrich knew of my great interest in classical music and that I was taking piano lessons at that time. His remark was a play on my name.
------------------------------------------
December 6, 1977 - U.S. Supreme Court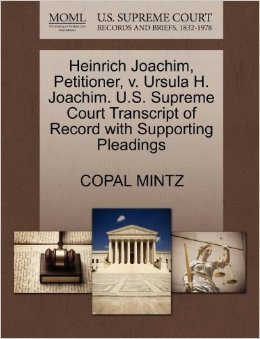 Heinrich Joachim, Petitioner, V. Ursula H. Joachim. U.S. Supreme Court Transcript Of Record With Supporting Pleadings
"This book contains copies of all known US Supreme Court filings related to this case including any transcripts of record, briefs, petitions, motions, jurisdictional statements, and memorandum filed. This book does not contain the Court's opinion."
Heinrich Joachim, Petitioner, v. Ursula H. Joachim.
Petition / COPAL MINTZ / 1977 / 77-804 / 434 U.S. 1066 / 98 S.Ct. 1242 / 55 L.Ed.2d 767 / 12-6-1977
[Available as a 48 page paperback from Amazon.com and Barnes & Noble and many other websites. Copal Mintz is the author, and was a lawyer in the case. To have reached the U.S. Supreme Court, this must have been an important case. To read about the several appeals in New York State courts, click here.]
To see my webpage about this court case, click here.
------------------------------------------
"International Who's Who in Music and Musicians' Directory", Eighth edition (1977) and Ninth edition (1980), both published in Cambridge, England, listed Heinrich Joachim, born 1910. I have not seen the exact listings.
------------------------------------------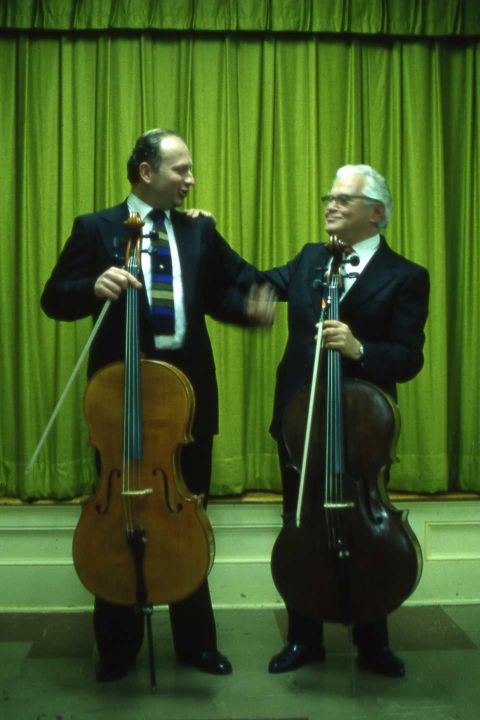 The joy of a son. The pride of a father.
Andrew Joachim and his father Heinrich Joachim
Part of the Capital Chamber Players series in the Delmar, NY area, about 1977.
"The picture of Andy and his father was taken after a concert where they played a selection, either a duet or trio,
which featured the two cellos. Andy played the first cello part and Heinrich the second. Andy was very proud
when his father suggested they play the work this way. The picture captures that moment." -- Sallie Joachim 8/7/2013
"Andy and his father only performed once together as a duo, as far as I can remember,
which makes the picture ... so memorable." -- Sallie Joachim 8/9/2013
Photograph by Norman Shartzer
------------------------------------------
New York Times
March 12, 1978
Westchester Weekly
"Tomorrow at 10 am. First of three cello master classes, by Heinrich Joachim, assisted by Pauline Lederer."
------------------------------------------
Katheryn Joachim was the wife of Heinrich's son Bruno.
------------------------------------------
New York Times
May 19, 1985
"Then at 8 o'clock this evening, the Westchester Conservatory holds a memorial concert in honor of two long-time faculty members who died last year, Thomas Lishman and Salvador Ley. Mr. Lishman's most celebrated student, the renowned pianist Garrick Ohlsson, is among the performers; so are the cellist Heinrich Joachim, who has chosen two compositions written for him by Mr. Ley... " [others were named]
The article indicates that Salvador Ley died in 1984, but internet references concerning him say 1985.
Heinrich and Salvador concertized together and were both faculty members at the Westchester Conservatory. Salvador composed cello music for Heinrich. They had been fellow students at a Berlin, Germany conservatory, and then both had been directors of the National Conservatory in Guatemala. All of this suggests a rather close friendship between them over the 50 years of their acquaintanceship. View a February 1, 1966 concert program on which they perform Paul Creston's 'Suite for Violoncello and Piano' at the Musicians Club of New York.

Obituary
Remembering a Teacher, and Lessons Taught
By Ari L. Goldman
The New York Times, July 21, 2002 [link]

It had been years since I visited the gracefully shabby house at 211 West Street in White Plains, but I went back in the spring for a memorial service for the man I called Mr. J, my cello teacher who died a few days earlier at the age of 91. His real name was Heinrich Joachim, a refugee from Hitler's Europe, who started life anew in postwar America as a cellist with several major orchestras including the New York Philharmonic.
Beginning in 1976, I knew him not as an orchestra musician, but as a patient and nurturing teacher who worked with me on scales, simple études and, as soon as I was able, the towering cello music of Bach. We start with Bach and end with Bach, Mr. J would say.
Mr. J taught at the Music Conservatory of Westchester in White Plains, at Manhattanville College in Purchase and at his house on West Street. Mr. J, who was divorced, gave lessons in a living room cluttered with instruments, recordings and a wonderful collection of books on art, philosophy and religion. At one end of the room stood his cello, which he called my wife, and, at the other end, his viola da gamba, an instrument with a gentler tone used in early music ensembles, which he called my mistress.
A lesson with Mr. J would start with an interview. How is my Ari? he would say in his thick, but gentle German accent. It wasn't a perfunctory question, but one about my health, job, faith, relationships and, eventually, my family. He played cello at my wedding. My wife and I named our first son for Mr. J, calling him Adam Joachim Goldman.
As my family grew, I had no more time for the weekly visits to the house on West Street. Work and family responsibilities increased and my cello gathered dust. I couldn't quite say goodbye to Mr. J, so, in 1985, we decided to take a hiatus from our weekly lessons. We kept in touch. He always remembered Adam Joachim's birthday. Occasionally we would ride up as a family from Manhattan to visit.
Adam, who took up the piano, would play for him. His sister, Emma, would sing. Each time, we noticed the signs of aging.
His hearing went first. He had to stop teaching, but he didn't stop playing. Somehow, although he could barely hear voices, he could make magnificent music on his cello. But then, a few months before he died, arthritis crippled his hands and he put down his bow.
About the same time, I decided to see if I could interest our youngest child, Judah, in the cello. Last September, soon after Judah turned 6, I took him to an orientation for a Suzuki cello program in Manhattan and he was hooked. As any parent who has tried Suzuki knows, it only works if a parent is intimately involved. I took out my cello and began to play it alongside Judah's quarter-size model. By January, I found a teacher of my own. Judah and I practice together every night after school for about 20 minutes (an eternity for a first grader). When Judah is done, I squeeze out time to practice on my own.
In February I sent Mr. J a note updating him on the family's cello exploits. I told him that my new teacher, Noah Hoffeld, was forever surprised how quickly I was learning, even after 17 years of being away from the instrument. You must have had a great teacher, Noah said. It's still in the fingers.
In April I got word that Mr. J was in the hospital after suffering a massive stroke. I went up to see him one last time. A few days later, Mr. J's children --Andrew, Bruno and Angela -- held a service in his memory in the garden of the house on West Street. We shared memories of a great life in the place where he taught so many of us about life and music. And we concluded by playing the cello music he loved, recalling his words of instruction: We start with Bach and end with Bach.
------------------------------------------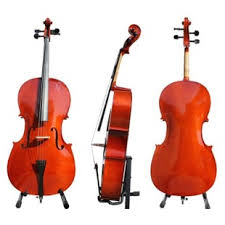 Visitors since 1 Feb 2015