Thomas Watthews in Yearbook Photos (1963-19??)
Bethlehem Central High School
Delmar, NY
by Cliff Lamere June 1-2, 2015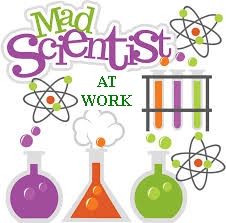 Thomas H. Watthews, Jr. was hired to begin teaching science at the Bethlehem Central Junior High School in September of 1960. He taught Biology at the High School from September 1962 through June 1966 and September 1967 through June 1992. For the 1966-1967 school year, Tom was on leave at the University of Minnesota. In his first year at the high school, Tom taught both Biology and Physics. Tom did a lot of acting in plays, which might have influenced him to frequently use props in the yearbook photos below.
I first met Tom when I was an undergraduate at what we then called Albany State Teachers' College. Tom was already doing his graduate work. I taught four years and earned my master's degree at Cornell University before getting a job at Bethlehem Central Junior High School (September 1968). Tom had moved on to the high school by then, but I would join him there the following year.
Tom enjoyed singing. For the 25th anniversary of the Capitol Hill Choral Society (1977-78), the conductor Judson Rand wanted extra singers for a special year. Tom asked me to join, and I have been singing in choruses and choirs ever since.
I got a chance to work closely with Tom (1990-91) when I was assigned to teach one class of General Biology, a course that Tom had designed for New York State. He was very helpful to me and very easy to work with.
Tom enjoyed gardening, and grew his own plants from seeds in containers. After planting his garden, he would offer me some of the extra seedlings. His father grew dahlias on Long Island, and Tom continued growing them in Clarksville. He gave me some of the tubers, and I have been growing them for about 40 years.
Tom influenced my life in many positive and interesting ways.
_________________________________________________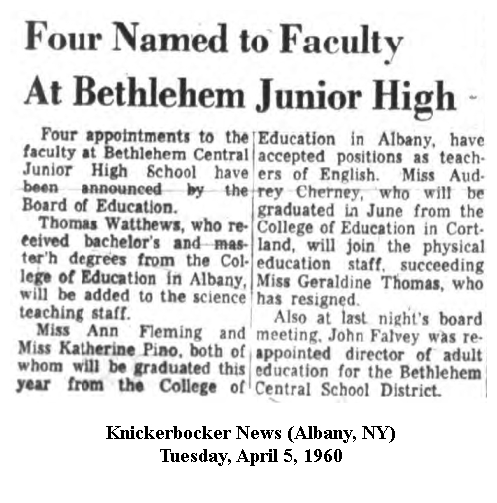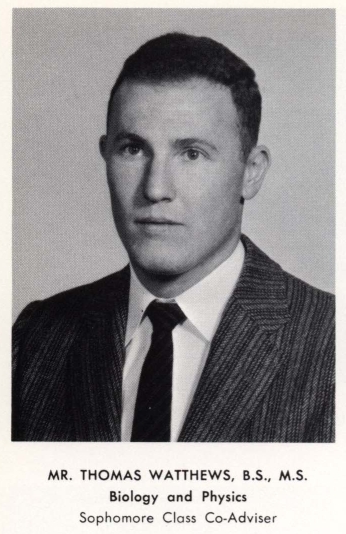 1963
1964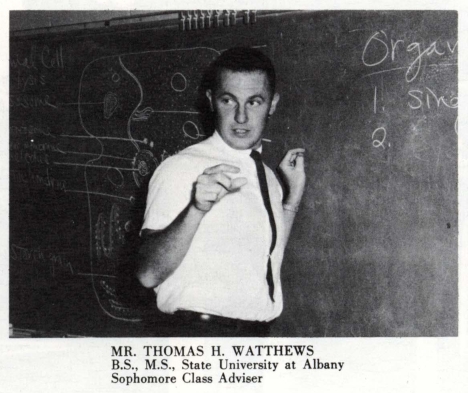 1965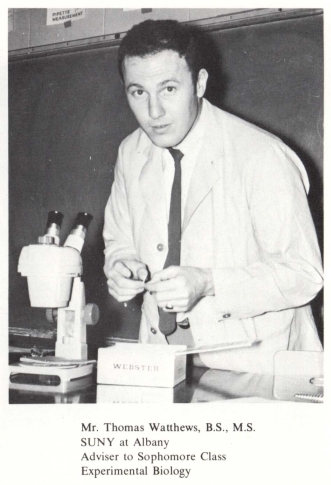 1966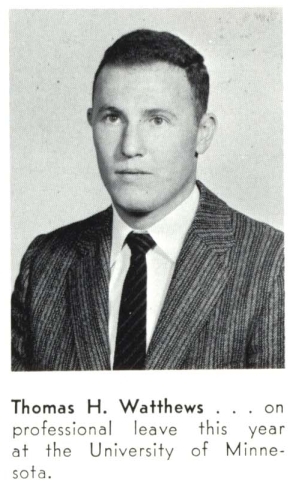 1967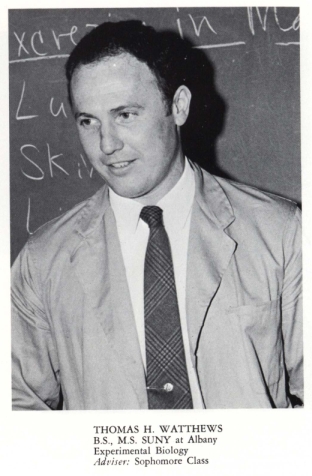 1968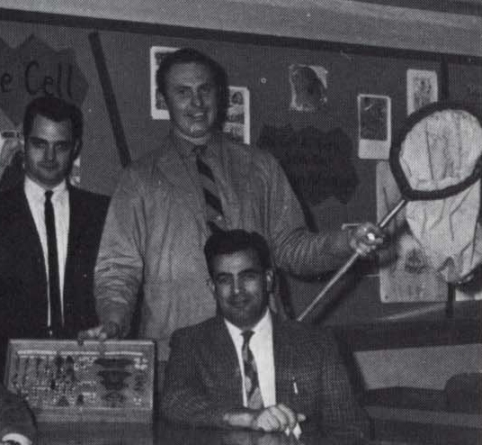 Richard Robinson, Thomas Watthews (with insect collection and aquatic net),
George Stagnitta (L-R)
1969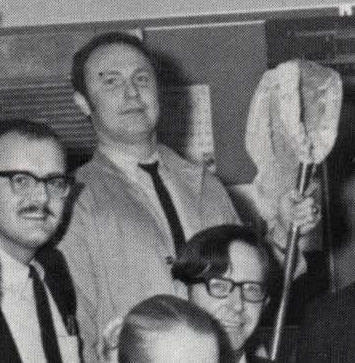 Bruce Wadsworth, Thomas Watthews (with net), Glenn Snider (L-R)
1970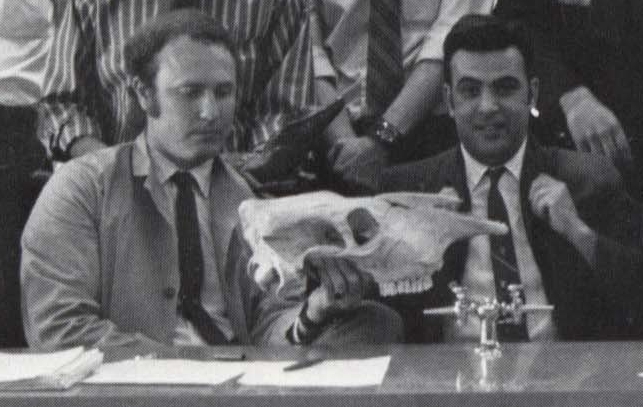 Thomas Watthews (with cow skull), George Stagnitta
1971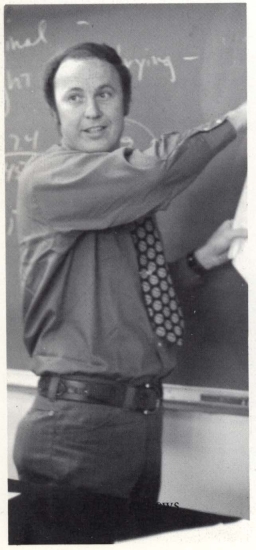 1972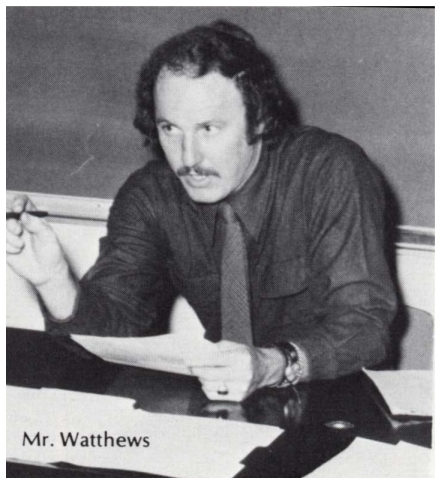 1973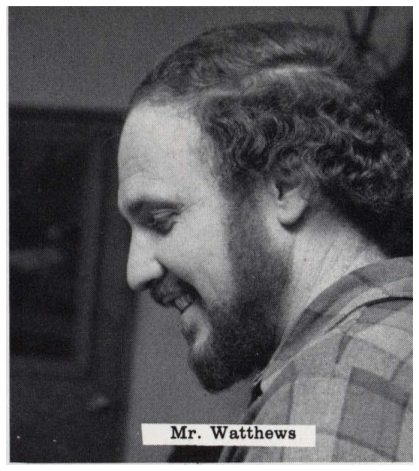 1974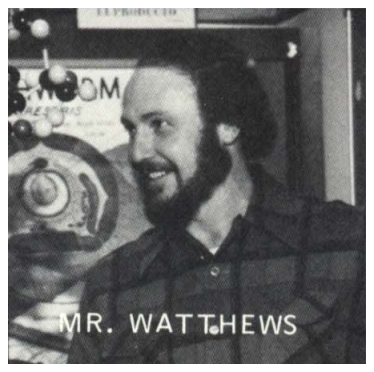 1975
1976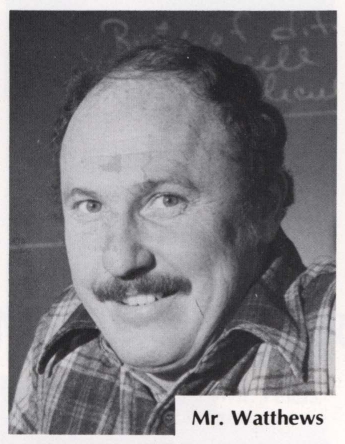 1977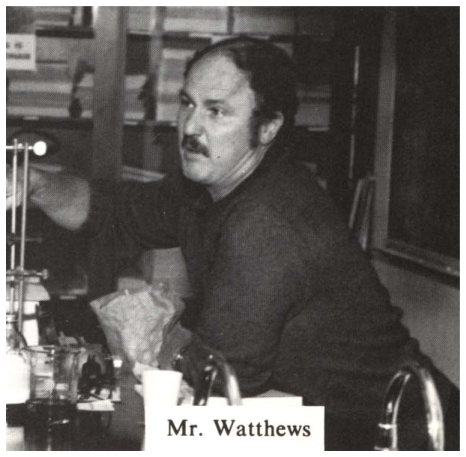 1978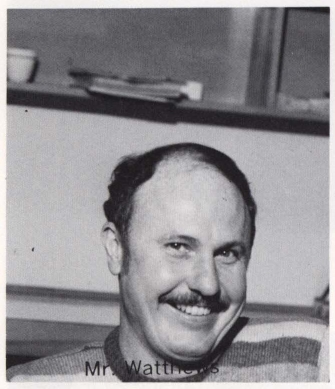 1979
Glenn Snider, Thomas Cunningham, Roberta Rice plus
Thomas Watthews with an aquatic dip net and a stuffed woodcock
1980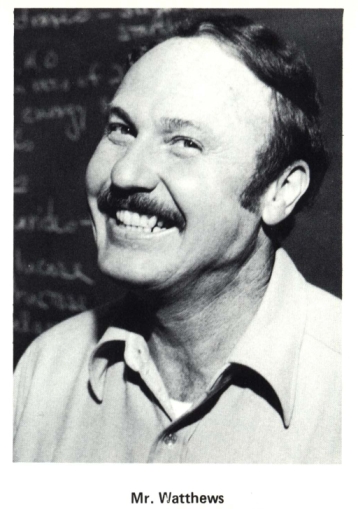 1981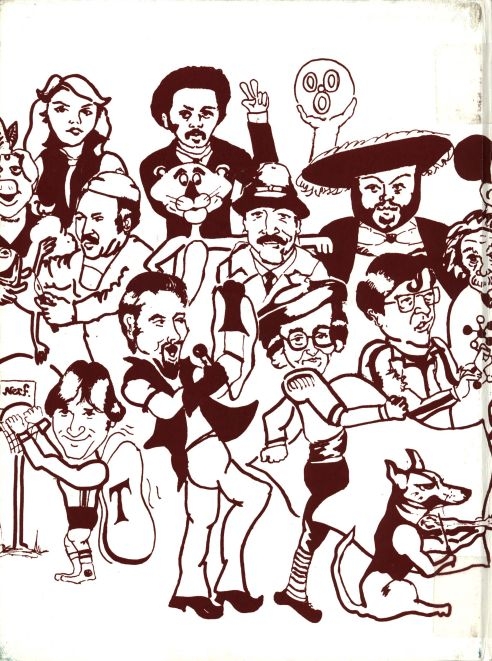 1981, rear cover of yearbook
Thomas Watthews is holding Kermit the Frog, and is between
Miss Piggy and the Pink Panther. The bottom row (L-R) consists of
James Tedisco, Clifford Lamere, May Blackmore, and Glenn Snider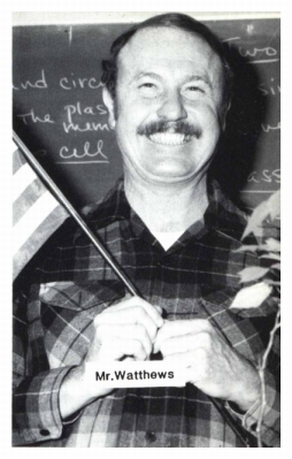 1982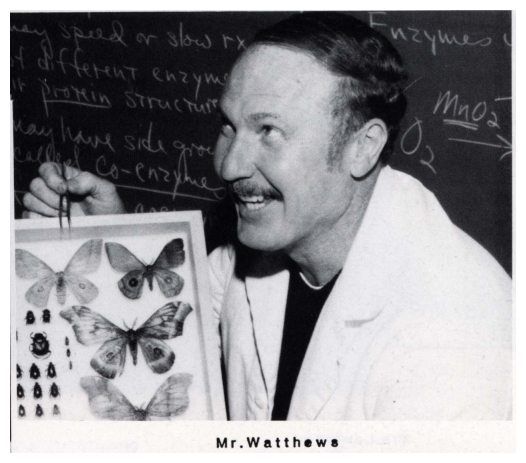 1983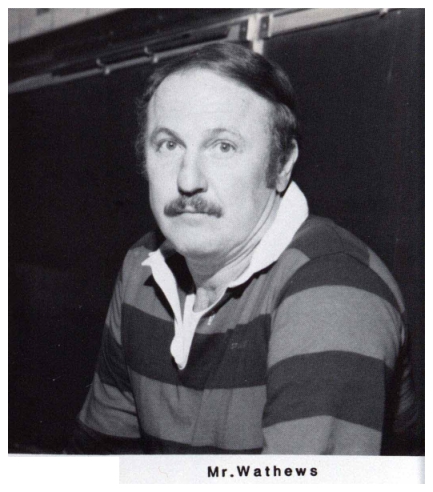 1984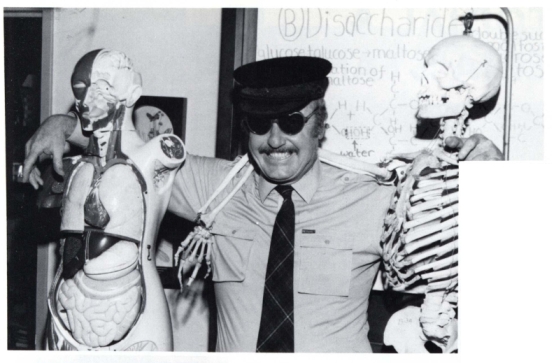 1985
Tom has his right arm on the shoulder of a human model.
A human skeleton has its right arm on Tom's shoulder.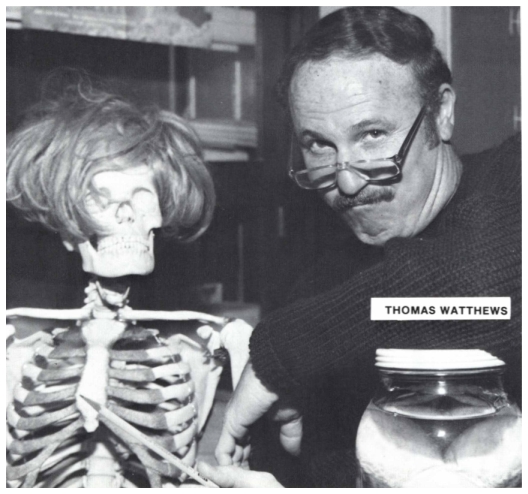 1986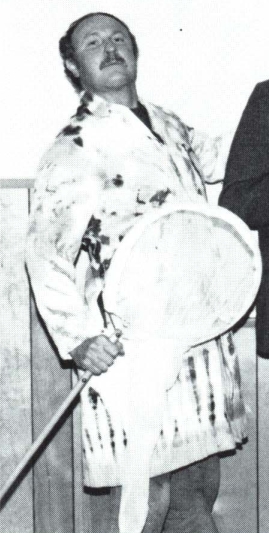 1987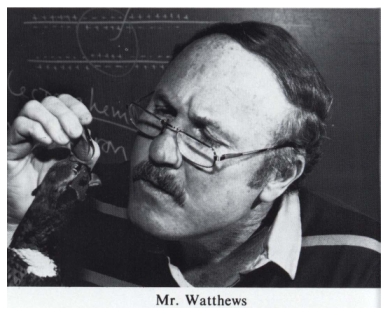 1988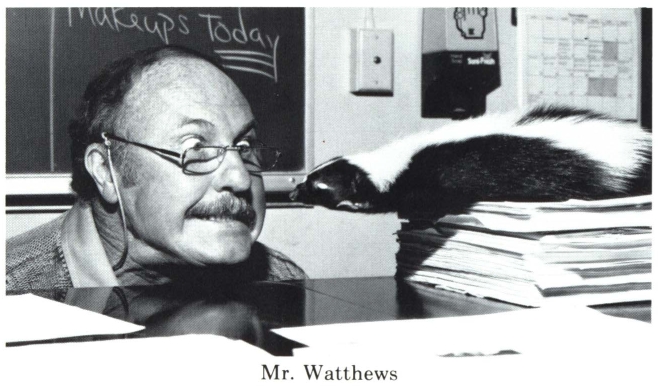 1989
Tom looks like he is trying to scare the skunk right out of its skin.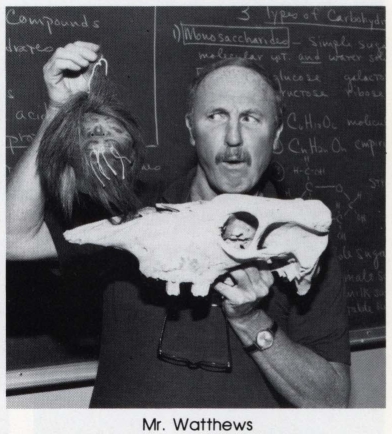 1990
With ?? and cow skull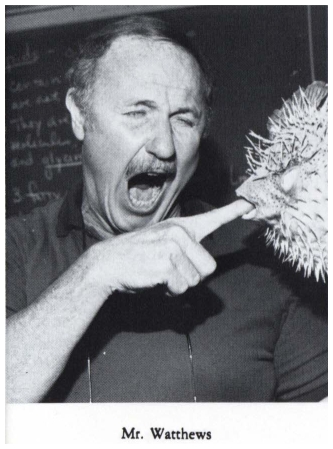 1991
Being bit by a puffer fish can be painful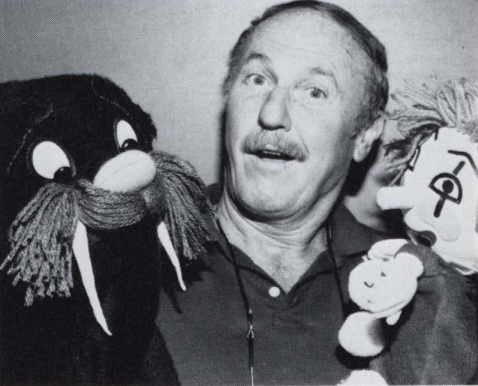 1992
Visitors since June 2, 2015